The Atlanta REALTORS® Participate in GAR's "Days at the Dome"
March 6, 2020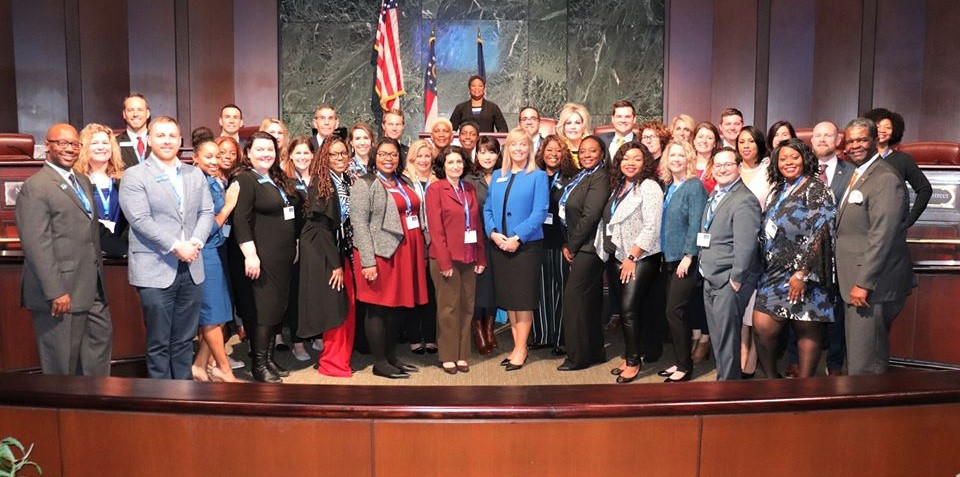 Members of the Atlanta REALTORS® Association recently attended the Georgia Association of REALTORS® "Days at the Dome." The event consisted of two days of learning more about the legislative process, visiting with legislators to discuss issues that have an impact the real estate industry and networking with over 700 REALTORS® from all over the State of Georgia.
In addition to programs sponsored by GAR, ARA members were excited to have members of the Legislature visit with them and discuss the State's most pressing issues this session, as well as their legislative priorities. Visiting with our members included Sen. Sally Harrell, Reps. Derrick Jackson, Mary Robecheux, Betsy Holland, Eric Allen, Kim Schofield, William Boddie, Debra Bazemore, Jodi Lott and Vernon Jones.
After hearing from their legislators and seeing the legislative session in action, our members were paid a visit by Gov. Brian Kemp who gave a briefing on his legislative agenda for the year.
Our Emerging Leaders (EL) program members also visited Atlanta City Hall to learn how the City government connects with State government. Emerging Leaders members were hosted by City Council President Felicia Moore. She reviewed how the governments work together, legislation at the City that affects the real estate industry and provided a tour of City Hall.
To view legislation being tracked at the Gold Dome this year, click here.
About the PCBR Market Brief
The Pickens County Board of REALTORS® (PCBR) Market Brief is compiled by First Multiple Listing Service (FMLS). For more information on details of this month's report, please contact the Board at 770.866.1397.
*Each month, the numbers reported for the previous month are updated to reflect additional recordings.
About the Pickens County Board of REALTORS®
The Pickens County Board serves as a central source of information for our members and our main focus are real estate education, the promotion of professionalism in our industry and representing our REALTOR® members with legislative initiatives to create positive change for the real estate community. Throughout its history, the Pickens County Board has exerted its influence in civic affairs in its capacity of representing a substantial segment of the business community across the Pickens area. The Board has contributed to various charities over the years by hosting fundraisers.
About First Multiple Listing Service
First Multiple Listing Service (FMLS) is the premier data services provider for real estate professionals in Georgia. FMLS was founded in 1957 by a group of Brokers who wanted to share their listings and connect buyers and sellers. Today FMLS is the largest MLS in Georgia & the 4th largest MLS in the United States, serving nearly 54,000 real estate Agents & Brokers. For additional information or to start a discussion about how to partner with FMLS please contact join@fmls.com.